The Riad Bledna, Marrakech, Morocco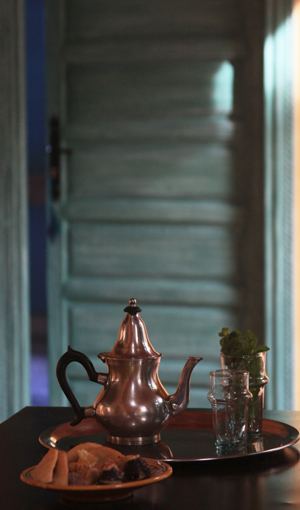 In a stunning natural setting on the road to the Atlas Mountains, Riad Bledna combines the charm of a traditional Riad with that of a villa completely surrounded by nature. The warmth of this family run world is reflected in the warmth of the colours and decoration. Created by master craftsmen under the watchful eyes of Mohamed and Kay, this is where modernity meets the traditional, using skills drawn from both the mountain and city cultures. The effect is at once energising, romantic and serene – and the décor is no less exciting than the cuisine.
Service with style and a smile is the watchword here at the Riad. Mohamed's devoted team is both courteous and discreet and at Riad Bledna, our cook, Hanane, proves the saying that food made at home is the best. The delicious flavours of Moroccan cuisine, as fresh as the lemons, grapefruits and oranges from the Riad's orchard garden, will lend a special experience to your stay. Breakfast looking out over the garden itself or take a cooling swim before dinner in our infinity pool.
And whether you choose to curl up on a couch in one of the many intimate or open spaces of the Riad itself, created to reflect your mood, or warm yourself by the fire in the European lounge, a library for book lovers can keep you company. Or simply relax with one of our numerous available films or play a board game. A wine list is also available for those wishing to partake.
Just like Morocco itself, Riad Bledna is a veritable feast for the senses. It is our
privilege to welcome you to our world.